We Need to Talk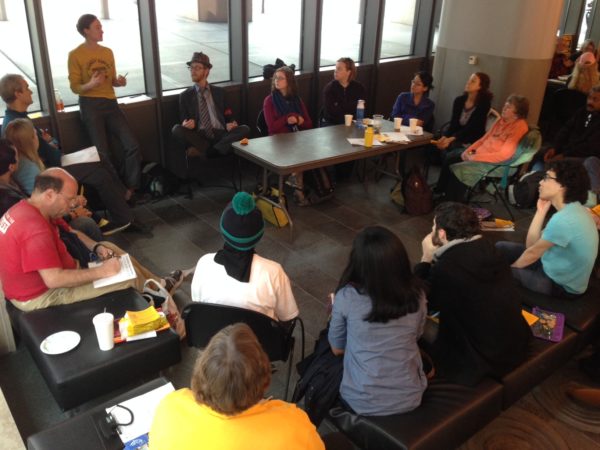 We Need To Talk is a new Transit Riders Union project designed to engage our neighbors in community conversations about homelessness. As homelessness grows in Seattle and King County, many harmful narratives have taken root. Without a clear way forward, frustration is reaching critical mass.
We Need To Talk works by recruiting individuals who are willing to host a facilitated conversation in their home, place of worship, community center, or workplace.  By engaging together about our perceptions and the root causes of homelessness, We Need To Talk creates a space to converse as community members and neighbors to come to a greater understanding of how we can work together to solve this incredibly complex issue.  (Check out our FAQ for more information.)
In the conversations we consider systemic and cultural issues that contribute to homelessness, explore how we can establish compassionate and effective responses to the problem, evaluate potential solutions, and empower the community to take action.
Hosts: We Need To Talk hosts are anyone with friends, spouses, co-workers or other acquaintances who they would like to join in a conversation about homelessness. The time commitment for a host is 2.5 – 3 hours, with the discussion lasting 1.5 – 2 hours, and leaving a half hour ahead and beyond for set up/clean up.
Location: Conversations can be held in the host's home, a communal space, library or other meeting room. Currently, this project does not have the capacity to pay for a meeting space. Hosts will be provided a list of materials and guidelines and support from We Need to Talk organizers to ensure success within the space provided by the host.
Facilitators: Facilitators create a safe space for discussion. Disagreement is okay and inevitable, and by fostering constructive conversation we can come out on the other end in a better place. Facilitators are provided with training and a handbook to ensure that they are comfortable and successful as they lead these discussions. The time commitment on the day of the event is 2.5 – 3 hours, and facilitators should expect to attend a one-time brief training ahead of their first event.
If you are interested in learning more about We Need To Talk, or are interested in becoming a Host or Facilitator, please fill out this form and we will be in touch!